Environments Are Landscapes When Manufactured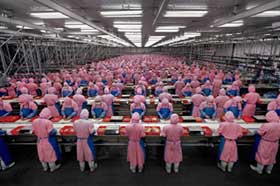 Mary Fugle, my warrior abs instructor gave me the heads up on the new exhibit at the
Brooklyn Museum of Art
. Only today did I find out that the title shares an uncanny resemblence to my friends Daniel and Faust.
Dan and Faust run the relatively
popular
blog at Manufactured Environments. The new BMA
exhibit
is Manufactured Landscapes, photography by Edward Burtynsky. From the press release:
Burtynsky, a modern-day counterpart to nineteenth-century landscape photographers, examines the intersection between land and technology, creating images of unorthodox beauty. His subjects include locations that have been changed by modern industrial activity such as mining, quarrying, rail cutting, recycling, and oil refining.
This seems right up Dan's alley, so perhaps there will be a convergence of Environments and Landscapes in Brooklyn before the show closes in mid January. You can see more samples at Space & Culture.

Labels: Art, blogs, Edward Burtynsky, Warrior Abs